Wrigley:
You guys will NEVER believe what has been going on with us!! Okay, maybe you will, but we sure don't believe it. Guess what was at our house last weekend? A WOOFIE!! Yes, a real live woofie, and we didn't like it one bit.
Cobalt:
Actually Wrigley is lying..we
really
didn't like it. We were scared stiff of him.
Wrigley:
No, YOU were scared stiff of him. I at least got close to the cage. But anyways, our mom bean's cousin has this dog called Riley. Well her cousin and her husband went off to Saint Louis (maybe they went to see the meezers?) for Easter and they left Riley here with us. When he first came, we were really scared and we hid in the shower.
Cobalt:
Yep, we both were in the shower and we had to puff up really big so that we could show the woofie that he was in our territory and we were not going to put up with it. We hissed and made scary noises but the woofie wasn't scared. He just wanted to play. But we wanted none of that. Sooo, the beans had us locked up in the guest bedroom (which is really ours!) and we only got to come out a little bit each day when the Riley woofie is in his cage. We guess it was not so bad but we didn't like not having free reign of the apartment.
Wrigley:
Thankfully the woofie is left on Monday to go back to his house. I hope our beans never want to get a woofie. Now, we will show you some pictures of us and the woofie. Mombean says she is sorry they are of such poor quality but she was shooting fast and not fooling with the camera settings.
Here we are right after Riley arrived at our house. We were stuck in the shower and boy, were we scared!!
All Riley wanted to do was play.
And eat his bone...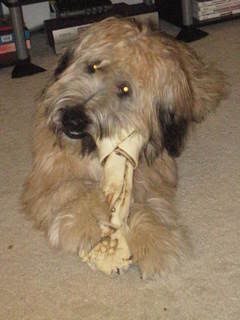 Which I decided looked delicious, so I had a taste too!
But we decided to keep our distance and watch Riley (who was locked in a cage while were out) from underneath an end table. (See our new PTU, we LOVE it, and we go in it to cuddle even when we aren't going to the vet. It's great. The beans are going to buy another one so we can each have our own...we're almost big enough to not have to share!!)
However, after being coaxed by some treats, I decided to get a little closer.
And that was about as close as we got!! Woofies are so scary!
P.S. Sorry it has taken us SO long to post yet again. We have had this entry typed up since last Saturday and for some reason, blogger wouldn't let us add pictures. :-( So the bean decided to use photobucket instead. Then on Monday, the beans had their very first wedding anniversary so they were a little busy going out to dinner and stuff. Oh, and another thing we forgot to say in our absence, Cobalt and I both had
double ear infections
two weeks ago! We had to get our ears cleaned twice a day and get medicines. It was no fun but we're glad we're all better now. And in related news, on April 10th, we both get our manbits taken away.
Anyways in closing, we will show you some of the beans favorite pictures from their wedding.